Epidemic Sound launches Soundmatch™ and unveils vision for frictionless AI-powered soundtracking for content creators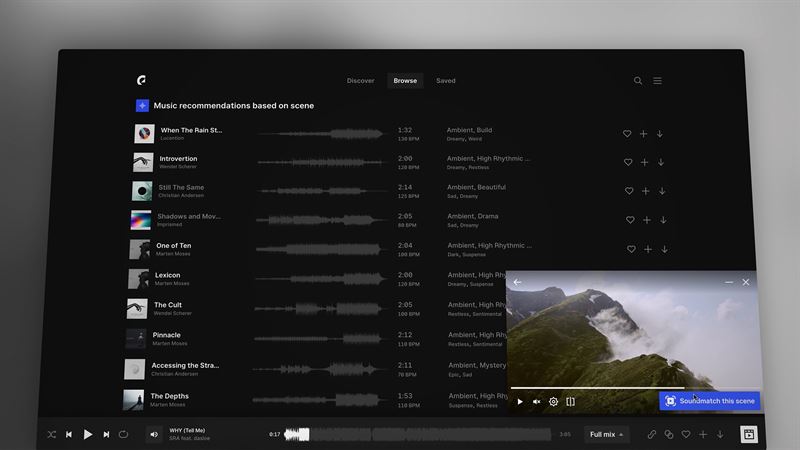 · Epidemic Sound has today unveiled its vision for next-generation soundtracking, touting AI and innovation to supercharge the creator economy and artistic expression
· The next step toward this vision is the launch of Soundmatch: an AI-powered, music discovery tool that saves time and delivers vastly better results for content creators
· The tool uses AI to analyze frames within a creator's chosen video, then leverages data insight from over two billion daily views of YouTube videos with Epidemic Sound music to recommend tracks perfectly suited to each visual scene
· Soundmatch joins Epidemic Sound's existing suite of AI-powered functions and innovative soundtracking tools, alongside the world's largest restriction-free catalog
Stockholm, Sweden – Epidemic Sound, the market-leading soundtrack innovation platform, today unveiled its vision for AI's impact on the creator economy and next-generation soundtracking for content creators, launching Soundmatch in the process.
"AI is triggering a renaissance of creativity; it has the potential to increase both content creation and consumption tenfold," commented Oscar Höglund, Co-Founder and CEO at Epidemic Sound. "Innovation and AI-powered tools will supercharge existing content creators and lower the barrier of entry for emerging creatives, likely leading to a huge surge in people producing and consuming online content."
The creator economy is currently expected to nearly double in size by 2027 and AI holds potential to bolster this, causing a swell in demand for innovative tools to support creators. 97% of content creators believe AI will help them automate repetitive or time-consuming tasks, paving the way for market leaders to introduce next-generation soundtracking for content creators.
"Soundtrack innovation and AI tools will, before long, make it completely frictionless for creators to add music and sound effects to content through our platform or via one of our partner video editing services," commented Greg Elkehag Funk, Chief Product Officer at Epidemic Sound. "We foresee a fully immersive creator experience that's seamlessly integrated into their workflow to provide an intuitive connection between video and sound. This could include user interfaces that adapt to any creator request - given in any medium - to provide accurate music recommendations driven by real-world sound-to-story performance insights; or powerful tools that keep the creator in control while harnessing AI to do the tedious work in an instant. Today, we're delighted to launch Soundmatch as the next step on this journey."
Soundmatch leverages a combination of AI and data insight, to deliver better music discovery results and save content creators time: a commodity that is becoming increasingly strained in the evolving social media landscape. It enables them to play their video on the Epidemic Sound platform and get a selection of recommended tracks that fit perfectly with the visual content.
The Soundmatch AI analyzes the visual frames within a video, translating them into the relevant keywords of a semantic search. Data insight of how these keywords are typically used at scale - powered by over two billion daily views of YouTube videos containing Epidemic Sound music - then enables Soundmatch to provide creators with a list of recommended tracks perfectly suited to each visual scene.
"Our focus is clear: we're laser-focused on our customer needs, including making sure they have both high-quality music and the technical means to easily find and use the perfect track. This commitment aligns with the findings of our "The Future of the Creator Economy Report 2023", which revealed that 98% of respondents view music as essential for creating engaging content. Our tools are powered by a team of technology and AI experts, who are also exploring new soundtracking territory to create services people never knew they needed, but then can't live without," continued Greg Elkehag Funk, Chief Product Officer at Epidemic Sound. "AI will, for sure, play a huge part in our future offering for creators, but only when it solves a genuine challenge for them. It's one exciting aspect of our broader innovation efforts to make the process of soundtracking content as fast and effective as possible."
Soundmatch joins Epidemic Sound's existing suite of AI-powered tools, which includes its 'Music Recommender' (2020), the 'More of what you like' feature (2020) and the audio-based search tool, 'Epidemic Audio Reference (EAR)' (2022). The news also follows the release of the company's audio-visual preview tool, 'Sync to Video'; the launch of its most powerful search engine yet; and the announcement that it recently added 5,000 tracks uniquely tailored to customer needs through its comprehensive music intake strategy and roster of world-class artists.
On generative AI and music, Epidemic Sound CEO and Co-Founder, Oscar Höglund, commented: "AI, particularly in regards to music and art, must be built responsibly with ethical considerations at the forefront. While our AI experts are right now focusing on meeting the technical needs of content creators, we also fully own the world's largest restriction-free catalog of top-quality, stem-based tracks, have unparalleled data insight on how that music performs online, a wealth of human feedback from in-product experiences, and over 500 employees united around a purpose to empower artists and content creators. Epidemic Sound is, if not the best-positioned, then one of the best-positioned to explore building a system that holistically supports artists and content creators, harnessing AI's capabilities while keeping artistic authenticity, integrity, and fair remuneration at the core."
To view Soundmatch, see here.
To preview the company's vision for AI-powered soundtracking for content creators, see here.
To check out Epidemic's full range of tracks and sound effects, visit https://www.epidemicsound.com/.