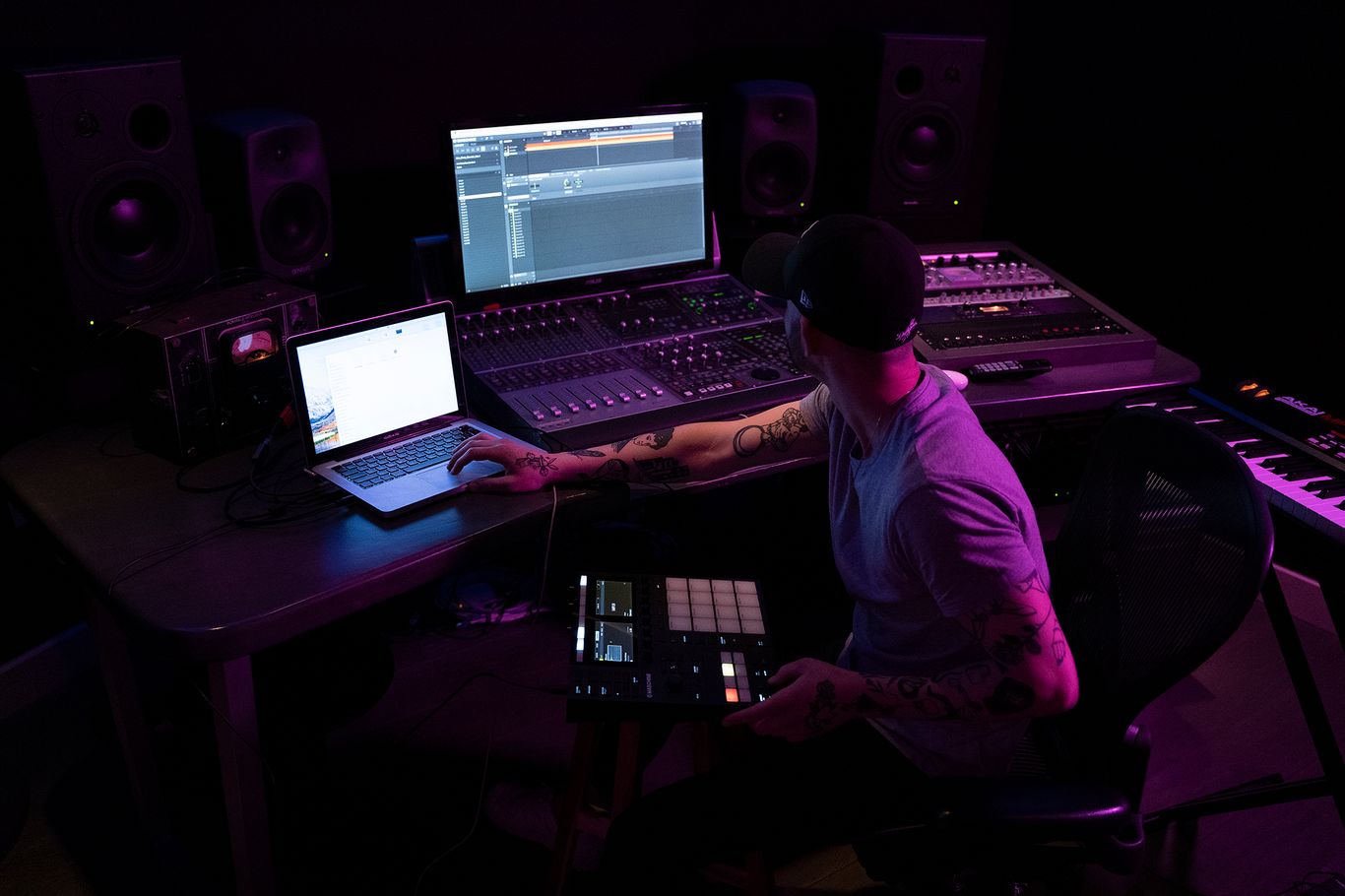 How we work with artists
We are at the stage, our artists bring the show
How we remunerate artists
Epidemic Sound's vision is to create a world where music flows freely and fairly. Helping artists make a living in music and having time – more than just spare time – to create, is key. The company's aim is to not only pay music creators for their work but to also provide them with predictability and stability in their profession. This means paying them for the work that they put in, as well as for commercial success.
Epidemic Sound's commitment to artists is based on three cornerstones: offering music creators predictability and financial stability, helping them thrive creatively, and giving them access to a global audience.
Epidemic Sound's remuneration model
Epidemic Sound's remuneration offers a simple solution that allows artists to be paid upfront, and with fewer intermediaries diluting their revenue.
At the heart of the company's remuneration model is the idea that artists should be remunerated for the work that they do, as well as for commercial success. It is not tied to exclusive agreements. Epidemic Sound wants its remuneration model to be transparent and to enable artists to make informed choices.

This is what it looks like:
Payment upfront
As of Q1 2022, Epidemic Sound paid an upfront fee of USD 1,200-6,000 per track when acquiring the rights to a track. The price depends on the complexity of the track, customer demand, the role of the music creator, and their comparative experience. At Epidemic Sound the upfront fee is always paid out directly to artists before the track is even made available, and is not recouped against any future royalties.
50/50 split on all streaming royalties
Epidemic Sound distributes and markets all the music from our catalog on streaming platforms. We share the revenues from streaming equally with our roster of artists.
A quarterly soundtrack bonus
Epidemic Sound also offers a quarterly soundtrack bonus – a fixed pool that is distributed proportionally among artists based on the popularity among our users. In 2022, the bonus was set at USD 2 million. We have said that the soundtrack bonus will grow as Epidemic Sound's business grows. As a result, the bonus will increase to USD 2,5 million in 2023.
Inviting artists to participate in the value creation at Epidemic Sound
As of 2021, Epidemic Sound also offered all its active artists the opportunity to participate in the Company's long-term incentive program. This enables them to take part in our value creation as a company.
In an ever-changing world, it is Epidemic Sound's ambition to continuously develop its remuneration model.
Inviting all active artists to participate in Epidemic Sound's long-term incentive program reflects its commitment to constantly evolving and improving how artists can make a living in music. By the end of 2022, Epidemic Sound will also distribute streaming royalties and the quarterly bonus to session musicians, exceeding industry standards.





What do music creators that work with Epidemic Sound earn?
Music creators who work with Epidemic Sound earn over $50,000 on average per year with our top earners making more than $200,000 per year.
How we work with our roster of music creators
A music creator that Epidemic Sound works with can be everything from a composer, producer, musician, or a vocalist – or one person may hold all those roles at the same time. The company gets in touch with music creators in many different ways, for example via its website where music creators may apply, or through scouts and our extended network who recommend music creators.
Predictable income
Epidemic Sound plan ahead and agree with each music creator on a quarterly basis on how many tracks we will commission from that creator during the coming quarter. This predictable and steady stream of income allows music creators to make plans for their personal and professional life, which otherwise is complicated when compensation is unpredictable and ad hoc.
Swift distribution of revenue
Epidemic Sound pays music creators with as little delay as possible. The upfront fee is paid before the track is even added to our catalog, creating security and freedom for its roster of music creators to be able to work without pressure and worry about how their music will perform. Epidemic Sound distributes its soundtrack bonus as well as the revenue from streaming platforms on a quarterly basis. Both of these revenue streams are also paid out to music creators who no longer work with the company.
Data-informed briefs
Epidemic Sound commission tracks based on business needs and customer demand, identified by using data-informed models. This enables the company to give our roster of music creators a creative brief when Epidemic Sound commissions music. '
Support and mentorship
It's important to Epidemic Sound that music creators grow creatively when working with the company. Epidemic Sound's team of talented A&Rs works closely with each music creator from their initial demos to the final mixes. The A&Rs serve as mentors and sounding boards, supporting and guiding each music creator to help them achieve their full potential. Epidemic Sound continuously organizes events like writing camps and workshops. The company also develops album artwork for all music creators and music videos for some.
Furthermore, the mental health of Epidemic Sound's roster of music creators is key to the company, which is why Epidemic Sound offers support through the digital health service provider Mindler in Sweden and BetterHelp in the US.
Non-exclusive agreements
Epidemic Sound's agreements are non-exclusive, and its roster of music creators is free to also create music for other entities. However, as many collecting societies have exclusive affiliation agreements, Epidemic Sound is currently only able to work with music creators who aren't members of such organizations.
Access to a worldwide network of storytellers
Epidemic Sound enables music to travel through its network of online video creators, broadcasters, small businesses, media agencies, and brands, while also distributing music to streaming platforms and pitching to playlists with millions of followers. The company credits its artists in the way that they want to be known and encourage its customers to do the same.
Collaborations with storytellers