Epidemic Sound launches Adobe Premiere Pro plugin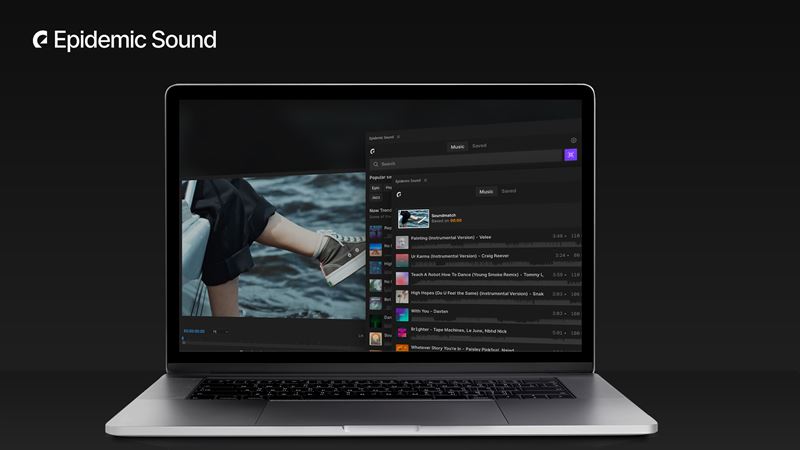 The plugin enables Epidemic Sound's Commercial and Enterprise subscribers to soundtrack videos directly from their Adobe Premiere Pro workflow

It saves time in the creative process by removing the need to switch interfaces, while providing native access to personal playlists and advanced soundtracking features like the AI-powered music search tool, Soundmatch

The launch marks a continued drive from Epidemic Sound to address user needs and streamline creative processes
Stockholm, Sweden – Epidemic Sound, the market-leading soundtrack innovation platform for content creators, has today announced the launch of its Adobe Premiere Pro plugin, which enables Commercial and Enterprise subscribers to soundtrack videos directly from their video editing workflow.
Once the plugin is downloaded from the Adobe Marketplace, Epidemic Sound's Commercial and Enterprise subscribers can log in to their account from Premiere Pro. It saves time in the creative process by providing the ability to search, download and add music to videos without needing to switch interfaces.
The plugin enables subscribers to access their personal playlists, as well as advanced soundtracking tools such as Soundmatch, which harnesses AI and data insight to deliver better music search results and save creators time. The tool analyzes a visual frame within a chosen video, and then provides creators with a selection of recommended tracks perfectly suited to the visual content.
To download the Epidemic Sound plugin, visit https://exchange.adobe.com/apps/cc/200592
To check out Epidemic's full range of tracks and sound effects, visit https://www.epidemicsound.com/