Epidemic Sound partners with Ubisoft to soundtrack The Crew Motorfest and its creative community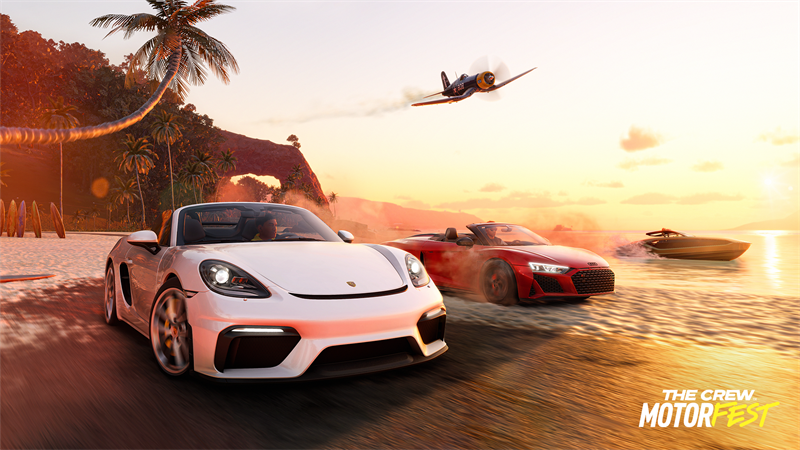 · On Thursday, September 14, 2023, Ubisoft launched its new racing game The Crew Motorfest
· Epidemic Sound has partnered with Ubisoft to empower gamers to elevate their in-game experience and live streams with high-quality music
· The collaboration allows gamers to safely include music in their live streams and publish their content online across all social media platforms without concerns of copyright takedowns or muted content

Stockholm, Sweden – Epidemic Sound, the market-leading soundtrack innovation platform, announced it has partnered with Ubisoft to soundtrack the third installment of The Crew Franchise, The Crew Motorfest.
In The Crew Motorfest, players get to explore the island of Oahu in Hawaii and participate in an always renewed festival designed for all car enthusiasts. Throughout the gameplay, drivers can choose to play tracks from a meticulously crafted portfolio of 125 Epidemic Sound tracks that have racked up millions of streams on music streaming platforms, such as Dynamic Beats from Bonkers Beat Club, Electro Beats from Tigerblood Jewel, Hip-Hop and Rap from NBHD Nick, Dark Trap from Cushy, and Retro-Wave music Sum Wave.
As each song plays, drivers can see the artist's photo and the song title, allowing them to enhance their gameplay with a curated soundtrack experience. Players have the ability to play, pause, or switch to the next track, customizing their in-game audio to match the desired vibe for their ride.
"Music is an essential element for creating a great in-game experience, but also for gamers aiming to create entertaining streams and a successful live streaming career," says Delphine Dossey, Brand Director at Ubisoft Ivory Tower. "The Epidemic Sound team was able to create a first-of-its-kind music solution for our gamers, where they can both access high-quality music in the gameplay but also use the music in their live streams and safely publish it across all social media platforms. With an expertly curated portfolio of genres spanning from Hip-Hop and R&B to Dark Trap, the drivers are in for an epic ride."
The partnership empowers gamers looking to live stream their drive and publish the broadcast across various social media platforms and SVOD (Subscription Video On Demand) channels like YouTube and Twitch. Simply by clicking on 'Streamer Mode', drivers can select an Epidemic Sound soundtrack, easily register their social media handles, and ensure the stream can be published across all platforms, globally, and in perpetuity, without worrying about copyright takedowns or muted content.
Oscar Hoglund, Co-Founder and CEO at Epidemic Sound, added: "We are very excited to partner with Ubisoft to soundtrack The Crew Motorfest. Ubisoft's global community of gamers now has a great selection of high-quality music to choose from for their in-game experience. Our partnership also empowers the drivers to play music in their live stream and publish the broadcast across social media channels without having to worry about copyright takedowns or muted content."
For more information, visit https://www.ubisoft.com/en-us/game/the-crew/motorfest
For more information about how live streaming with Epidemic Sound's music works, visit: https://www.ubisoft.com/en-us/game/the-crew/motorfest/news-updates/4ueDO1k6kbRV6YwZSWQxOI

*The tracks are available for all drivers in gameplay as well as for those gamers who want to live stream their drive. By way of safelisting, Epidemic Sound provides for a limited number of Ubisoft gamers to safely post recorded live streams as SVODs on their social media channels.

About The Crew™ Motorfest
Developed by Ubisoft Ivory Tower, a studio based in Lyon, France, The Crew™ Motorfest lets players fulfill the driving bucket list of their dreams in one of the most exhilarating and vibrant open worlds ever created. Motorfest is a car-culture infused festival organized in one of the world's most breathtaking locations: O'ahu, one of the main islands of the Hawaiian archipelago. On their own or with friends, players can explore this galvanizing tropical playground behind the wheel of hundreds of the most legendary vehicles ever built. At every corner of the island, the festival offers infinite opportunities for pure fun, all forms of driving challenges, and invites them to explore incredible landscapes: from big city streets to volcano slopes, lush rainforests, idyllic beaches… They are free to follow the roads or forge their own path!
About Ubisoft
Ubisoft is a creator of worlds, committed to enriching players' lives with original and memorable entertainment experiences. Ubisoft's global teams create and develop a deep and diverse portfolio of games, featuring brands such as Assassin's Creed®, Brawlhalla®, For Honor®, Far Cry®, Tom Clancy's Ghost Recon®, Just Dance®, Rabbids®, Tom Clancy's Rainbow Six®, The Crew® and Tom Clancy's The Division®. Through Ubisoft Connect, players can enjoy an ecosystem of services to enhance their gaming experience, get rewards and connect with friends across platforms. With Ubisoft+, the subscription service, they can access a growing catalog of more than 100 Ubisoft games and DLC. For the 2022–23 fiscal year, Ubisoft generated net bookings of €1.74 billion. To learn more, please visit: www.ubisoftgroup.com.
© 2023 Ubisoft Entertainment. All Rights Reserved. Ubisoft and the Ubisoft logo are registered trademarks in the US and/or other countries.