Epidemic Sound joins Runway's Gen:48 as the short film competition's official music provider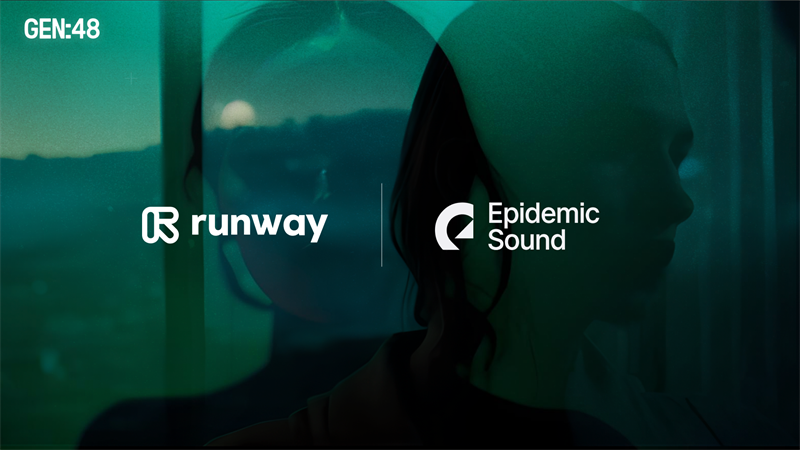 Epidemic Sound is partnering with Runway as the official music provider for creators participating in its Gen:48 short film competition in October

Running over a 48-hour period between October 21-23, the competition invites filmmakers to create a 1-4 minute video with prizes for the winner and runners up

Alongside access to Runway's suite of tools, participating filmmakers can sign up for free 30-day access to Epidemic Sound's catalog of high-quality music and next-generation soundtracking tools
Stockholm, Sweden: Epidemic Sound, the market-leading soundtrack innovation platform for content creators, has announced it is partnering with Runway - an applied AI research company building the next generation of creative tools - as the official music provider for its Gen:48 short film competition, empowering participating creators with high-quality, restriction-free music from Epidemic Sound artists.
The competition, which will run over a 48-hour period between 9 a.m. EST October 21 and 9 a.m. EST October 23, invites global filmmakers and creators of all skill levels to create a short 1-4 minute film using Runway's generative tools including Gen-1 and Gen-2 to enter.
Participating filmmakers will receive access to Runway's suite of tools to create their films, and will have the ability to sign up for free 30-day access to Epidemic Sound to bring their content to life with music.
A group of finalists selected by Runway will turn to a public vote to determine the winning film, which will receive $5,000 USD, 1 million Runway credits, a complimentary Unlimited plan, as well as a year's access to Epidemic Sound's Commercial Plan. The winning film will also be screened at Runway's AI Film Festival in May, which is a celebration of the art and artists embracing new and emerging AI techniques for filmmaking.
To sign up for the competition, please visit Runway's Gen:48 registration page.
Visit Epidemic Sound to check out its full range of tracks and sound effects.
About Runway
Runway is a research company pioneering new tools for human imagination. Runway has been at the forefront of multi-modal AI systems ensuring that the future of content creation is both accessible, controllable and empowering for creatives. Runway's mission is to ensure that anyone anywhere can tell their stories.