Epidemic Sound Announces Upcoming Releases from Sarah the Illstrumentalist, Ebo Krdum, Plus New K-Pop Artist Expansion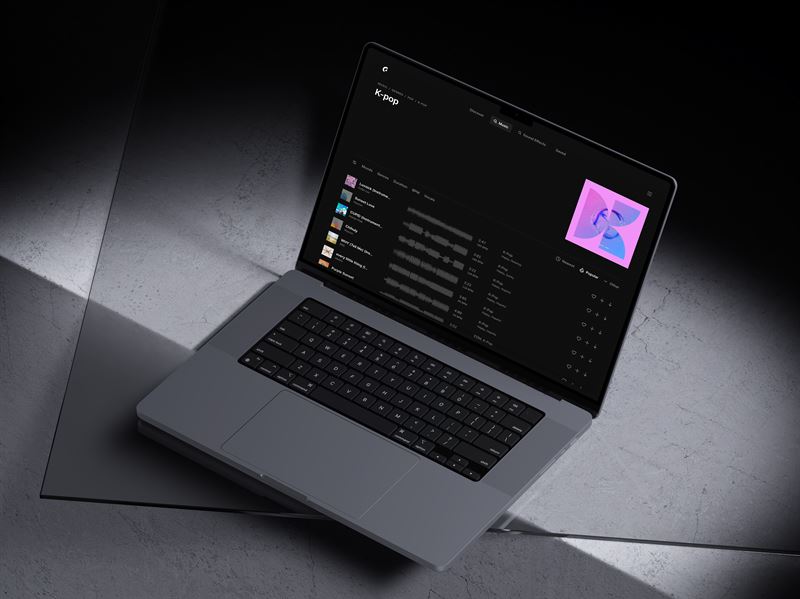 Epidemic Sound Announces K-Pop Artist Expansion
K-Pop and Korean music are gaining worldwide popularity. In the first half of 2023, K-Pop album exports broke a record $132.93 million. As the genre continues to gain traction, Epidemic Sound, the leading soundtrack innovation platform for artists and creators, announced that it has now started to sign artists based in Korea. In addition, the company is expanding its catalog of Korean and K-Pop music.
Since 2021, K-pop has gone from being the 100th most popular subgenre in the Epidemic Sound player to one of the top 20 most popular genres. From 2021 to 2022, the amount of K-pop tracks released by Epidemic Sound has more than doubled, and the releases during 2023 have already succeeded that of 2022.
Adelyn Paik is one of Epidemic Sound's biggest K-Pop artists and has over 50K monthly listeners. Based in Los Angeles and born in South Korea, her musical career began in the gospel group Clema, which toured countless churches around the country. Since then, her sound and her career have evolved into something incredibly special. Her uniquely soothing pop lullabies are soulful and powerful, with Paik's talent shimmering through her melodies. Her upcoming single "Paris with You" is a laid back, romantic jazz track that highlights her soft, yet powerful voice. The track will be available on September 8, 2023.
To check out Epidemic Sound's full catalog of K-Pop music, visit this page.
Artist Spotlight: Sarah, the Illstrumentalist
On September 8th, music producer, composer, performing artist and content creator Sarah, the Illstrumentalist, will debut her new album "Double Aries." With over 515K active monthly listeners and 100M Spotify streams, Sarah is a creative mastermind and one of Epidemic Sound's top-performing artists. She creates soulful, lo-fi, boom bap hip-hop beats with a dusty jazz spaceship vibe.
Aside from music, Sarah owns and acts as creative director for beat-making lifestyle brand No Quantize, and she shares her beat-making skills and experiences through her YouTube channel Sarah2ill with over 80K subscribers. To read more about Sarah, click here.
Artist Spotlight: Ebo Krdum
Ebo Krdum, renowned Swedish-Sudanese powerhouse and an Epidemic Sound artist celebrated for his soul-stirring music, returns with his latest album, "Soga Jamailé" on September 22, 2023. With multiple accolades, including a Swedish Grammy, this heartfelt album showcases Ebo Krdum's diverse talents and profound storytelling.
In his own words, Ebo Krdum describes "Soga Jamailé" as a chapter of his written-in-exile songs – songs that express the beauty of nature, longing for lost comrades, relatives and friends, and messages of optimism despite the challenges the world faces today. He extends gratitude to the universe for creating his mother and protecting her until he came into this world in an album that also serves as a love note to her existence. To read more about Ebo's story, click here.

Upcoming Releases from Epidemic Sound:
09/01/2023
Christoffer Moe Ditlevsen - "Snow Clad Plains" (Single)
DAJANA - "I Say Yes" (EP)
dasloe - "it's in the air" (Single)
Lawd Ito - "No Hay Trabajo" (Single)
Sarah, the Illstrumentalist - "Play This (Smile)" (Single)
Torii Wolf - "Bright Blue Diamonds" (Single)
09/05/2023
Bambi Haze - "Te Xtraño" (Single)
09/06/2023
Lukas Got Lucky - "We Win" (Single)
09/08/2023
Adelyn Paik - "Paris with You" (Single)
Gavin Luke - "I'll Be Around" (Single)
Megan Wofford - "Sunset Farewell" (Single)
Ooyy - "Black Spur" (Single)
Sarah, the Illstrumentalist - "DOUBLE ARIES" (Album)
09/14/2023
Timothy Infinite - "Moderation"(EP)
09/15/2023
Auxjack, Jobii - "Crab Boys Pt. 2" (Single)
BLUE STEEL - "MOGUL" (Single)
Kylie Dailey - "Big Open Sky Flyer" (Single)
Lupus Nocte - "Time Attack" (Single)
Nbhd Nick -"'Came 2 Play" (Single)
09/19/2023
Lukas Got Lucky - "Bisa" (Single)
09/22/2023
Anna Landström - "So I" (Single)
Christoffer Moe Ditlevsen, Anna Dager, Hanna Ekström - "Midst of Life" (Single)
Collin Lim - "You Are My Melody" (Single)
Ebo Krdum - "Soga Jamailé" (Single)
09/29/2023
Kylie Dailey - "No Good Kudzu" (Single)
Ooyy - "Levitate" (Album)
Torii Wolf - "Little Thief" (Single)

To check out Epidemic's full range of tracks and sound effects, visit https://www.epidemicsound.com/.