Epidemic Sound adds over 5,000 new tracks poised to meet content creator needs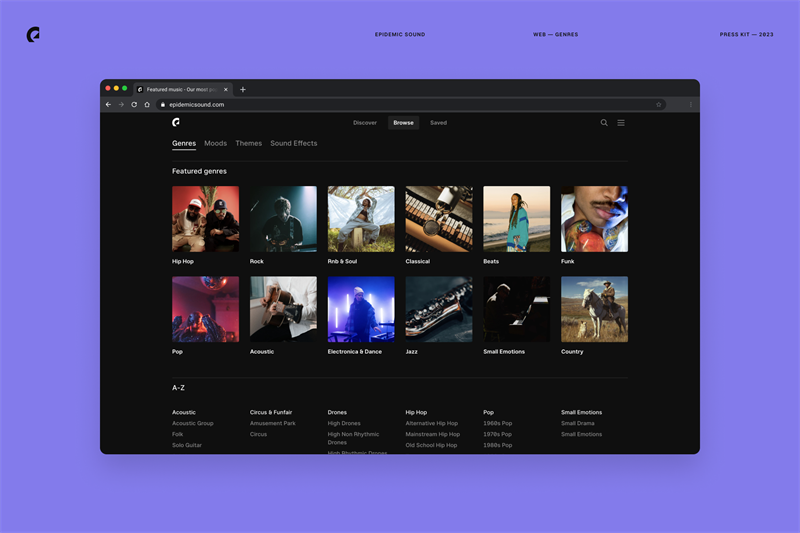 The market-leading music licensing platform for content creators has grown its catalog of tracks by 5,000, having added nearly 10 tunes per day since 2021
New tracks perfectly in tune with content creator needs due to a music strategy that harnesses creator feedback, data insight from over 2 billion views per day on YouTube and knowledge from in-house experts
Now containing over 40,000 tracks, the catalog's latest additions feature artists such as Ooyy, Katori Walker, Anna Landström, Lawd Ito and Adelyn Paik
Stockholm – Mar. 16, 2023 - Epidemic Sound, the market-leading music licensing platform for content creators, has announced it has grown its catalog by more than 5,000 tracks, reaching a total of 40,000 available for storytellers and content creators to elevate their content with music.
Having added nearly 10 new tracks per day since 2021, the company's strategy is built on three pillars and ensures new music is perfectly in tune with content creator needs. The first is listening to content creator feedback. In recent times, Epidemic Sound has seen requests for more electronic house music, as well as a need for more music to soundtrack fitness content. As a result, the company has increased the selection of Electronica and Dance music by nearly 30%, featuring new tracks from artists such as Ooyy and Lupus Nocte.
Secondly, videos including Epidemic Sound's music are viewed over 2 billion times per day on YouTube alone, which provides in-depth data insight into music-usage trends and consequently enables the company to create tracks that meet both continuous and emerging needs of content creators.
Hip-hop initially saw a year-on-year increase of over 100% in downloads from the Epidemic Sound platform from 2019 to 2020 and has since cemented its place as the fourth most used Epidemic Sound genre in YouTube videos. The company has therefore continued to invest in the genre, increasing the total number of hip-hop tracks by nearly 50% with artists such as Sarah, the Illstrumentalist, Katori Walker and Nbhd Nick releasing new music.
Similarly, Epidemic Sound's Sound of the Internet Report 2022 established that classical music had seen over 90% growth in use by YouTube creators over the year. As a relatively new trend, the company has already grown the number of available tracks in the genre by almost 20%. Among the new classical releases is "The Dawning" - a track composed by Christoffer Moe Ditlevsen and performed by Anna Dager and Hanna Ekström on live strings - as well as new releases like Shadow Play by Anna Landström.
The third part of the music strategy harnesses Epidemic Sound's in-house team of music experts, which includes Grammy-nominated producers and engineers, to interpret data, creator needs, industry trends, artist preferences and company activity, and subsequently guide music creation. One recent result of this is a more than 40% increase in the number of tracks in the Latin genre, featuring new releases from artists such as Frontera Bugalu, Caro Luna and Lawd Ito.
"We've seen content creator requests for more Latin music accompanied by huge industry growth within the genre, as well as efforts by Epidemic Sound to start localizing its languages and offering in Latin America," commented David Slitzky, Director of Music Development and Special Projects at Epidemic Sound.
"Trends also move really fast. One of the things we're excited about is the success we've seen as we've expanded our K-pop selection with tracks from the likes of Adelyn Paik. I predict we'll see greater investment in this genre as well as others from Korea and consequently a big increase in them soundtracking the stories and videos of the internet."
On top of its core music offering, the Epidemic Sound catalog is complemented by 90,000 sound effects, a powerful search engine and machine learning-based music discovery tools such as Epidemic Audio Reference (EAR) - an audio-based search tool that helps content creators quickly find the music they need for their productions.
"We're committed to offering the best-in-class experience for content creators needing great music and sound for their content," added Niklas Brantberg, Chief of Music at Epidemic Sound. "I want to thank all our talented artists and in-house music teams who've worked so hard to create and release these 5,000 incredible tracks. We couldn't be more excited to continue providing content creators with new music that's more relevant than ever for their content, as well as guiding our artists to create music where there is a high chance of finding an audience."
To check out Epidemic's full range of tracks and sound effects, visit https://www.epidemicsound.com/
*Unless stated otherwise, all percentage growth numbers are based on comparing the total number of tracks in a genre from 2021 to today.
-Ends-
About Epidemic Sound
Epidemic Sound, the market leading platform for restriction-free music, is headquartered in Stockholm, heard around the globe and on a mission to soundtrack the world.
The company has democratized access to music for storytellers. Its innovative digital rights model paves the way for creators - everyone from YouTubers to small businesses to the world's largest brands - to use restriction-free music to take their content to the next level, whilst simultaneously supporting the musicians it works with both financially and creatively.
The company was co-founded in 2009 and has offices in six major cities across the globe: Stockholm, New York, Los Angeles, Seoul, Hamburg and Amsterdam. Epidemic is backed by EQT, Blackstone, Creandum, Atwater Capital, Alecta. AMF, and TIN Fonder and its Chairperson is Andrew Fisher, former CEO and Chairman of Shazam.
###