Epidemic Sound launches audio-based search tool to supercharge music discovery for content creators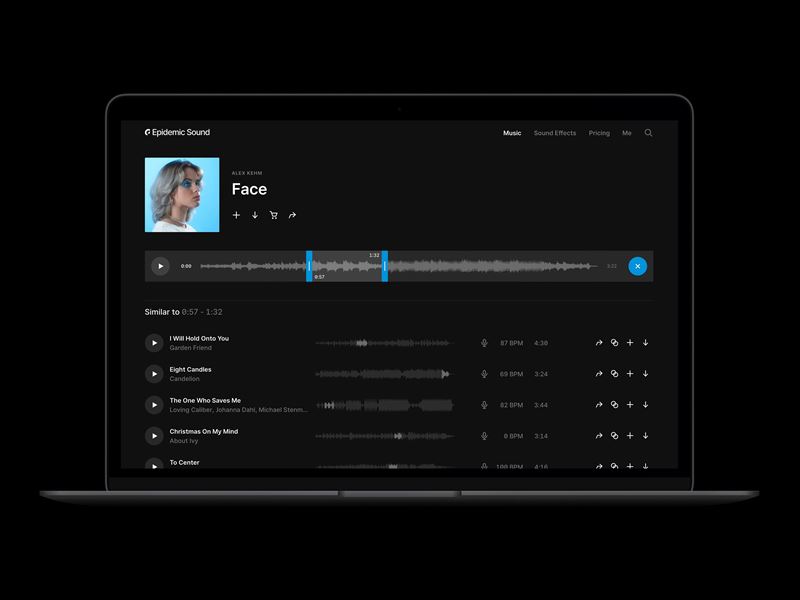 Unveiled today, EAR (Epidemic Audio Reference) is an audio-based search tool designed to help content creators quickly find the music they need for their productions
Creators can now select and use sections of Epidemic Sound tracks as search criteria, enabling them to find more tracks with a similar vibe, atmosphere, and tone
EAR is the latest feature from Epidemic Sound as the company continues to invest in making it as easy and quick as possible for content creators to find the right music for their productions
Stockholm, Sweden – Epidemic Sound, the market-leading platform for restriction-free music, today announces the launch of EAR (Epidemic Audio Reference), an audio-based search tool, designed to help content creators quickly and easily find the music they need for their productions.
Creators can now use EAR to discover music by manually selecting specific sections of Epidemic Sound songs to use as search criteria. Imagine a user that finds a beautiful melody over a quiet piano with a "deep, emotional" feel. If this song isn't quite what they are looking for, they can now select just the part of the song that is closest to what they want and find other tracks with a similar feel.
The EAR tool uses machine learning to analyze the chosen section's characteristics and elements, and produces search results with tracks that possess a similar vibe, atmosphere, and tone. Alongside the platform's search and browse functions and its sophisticated personal recommendation tools, EAR ultimately provides content creators with more options to discover music that best suits their content.
"We know from speaking to our community that creators search for music in vastly different ways. Some rely entirely on their ear to guide their decision, whilst others use visuals of the audio waveform to find the right track," comments Greg Elkehag Funk, Chief Product Officer at Epidemic Sound. "EAR caters to both of these key search senses; whether it's sight or sound that guides music discovery, we're excited to see the effect EAR has on all of our storytellers' creative processes."
Epidemic Sound Ambassador and content creator, Simone Cioè, adds: "I'm always pressed for time when editing. With EAR I can find the perfect soundtrack so much faster."