Epidemic Sound launches machine learning-powered 'Music Recommender' to personalize music discovery for YouTube creators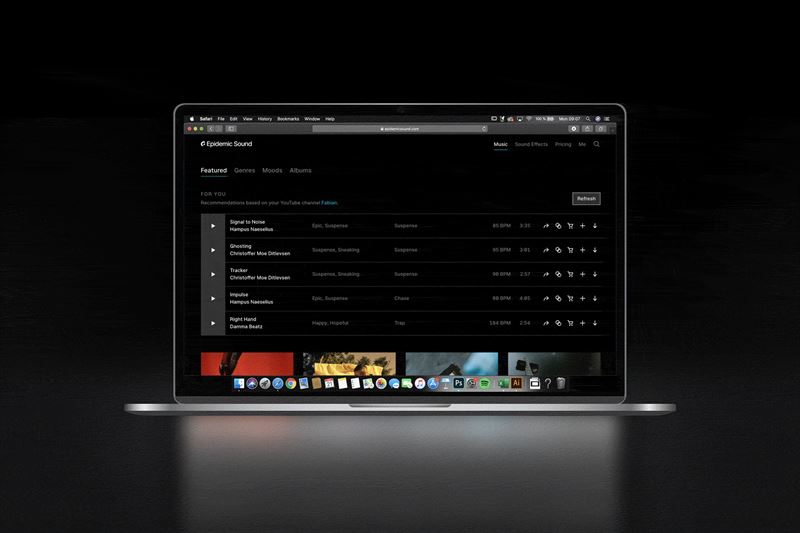 Epidemic Sound has announced the launch of a 'Music Recommender' tool to help YouTube creators find the music they need to soundtrack their videos
Based on creators' recently published videos on their YouTube channel, the machine learning tool provides five track recommendations at a time for Epidemic Sound music commonly used in similar types of videos
The recommendations can be instantly refreshed by users, creating a more personalized way to browse and discover music on the platform
Stockholm, Sweden – Epidemic Sound (Epidemic), the award winning* tech company disrupting the music industry, announces it has launched a machine learning-based 'Music Recommender' to help its community of YouTube creators discover the music they need to soundtrack their videos quickly and easily.
The company recently announced that videos containing its music are viewed 1.5 billion times a day on YouTube, and has accumulated a unique amount of insight into how its music is used on the platform.
"We know what the internet sounds like. We're humbled to be in a position where there are millions of YouTube channels out there using Epidemic Sound music to power the emotion of their stories," commented Oscar Höglund, CEO and co-founder at Epidemic Sound.
"We want to use this insight to develop features that fuel creators with quick and easy ways to find the music they need."
The tool, which has been rolled out over a period of two weeks, is based on creators' recently published videos on their YouTube channel and recommends tracks that are commonly used with similar types of videos. All Epidemic Sound creators who have published at least one video on their YouTube channel will now see five recommendations at a time embedded into their individual Epidemic Sound starting page.
The recommendations, which are automatically refreshed every 24 hours, can also be instantly-refreshed at the click of a button, creating a new, personalized way for creators to browse and discover music on the platform.
To check out Epidemic's full range of track and sound effects, visit https://www.epidemicsound.com
*Epidemic Sound was named on Financial Times' 2020 list of Europe's fastest-growing companies for the second year running.