Epidemic Sound brings emerging rap artists, Iso Indies, together with creative director, Alen Palander, in first-of-its-kind music video creation project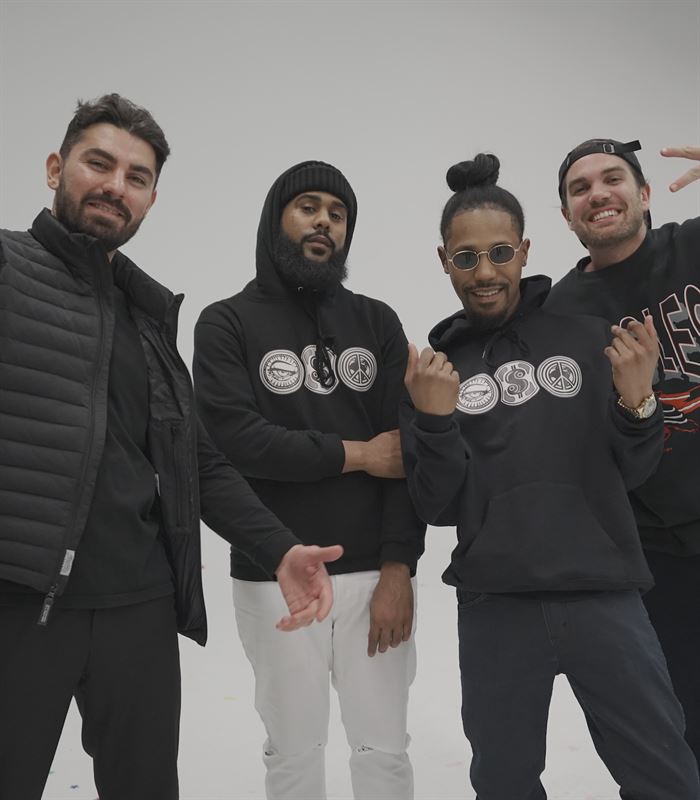 Creative director and YouTuber Alen Palander joins forces with Epidemic rap duo, Iso Indies, to shoot a music video for their latest track Safehouse
With shooting taking place in January 2020, the collaboration saw another move from Epidemic to bring its community of music and content creators closer together
The official music video, now published on Epidemic's Hip-Hop YouTube channel, and a behind the scenes video from Palander's own channel have now amassed over 42,000 views between them, with the track itself gaining 72,000 streams on Spotify
Stockholm, Sweden – Epidemic Sound, recently named on the Financial Times' list of Europe's fastest-growing companies for the second consecutive year, announces they have linked up creative director and YouTuber, Alen Palander, with the emerging rap duo, Iso Indies, for a first-of-its-kind project to create a music video for the track Safehouse.
With a large network of music and content creators united by creating and syncing Epidemic's tracks, the platform is continuing to lean into reports that YouTube is now the top daily video-streaming destination among young people to bring its cross-discipline creators closer together and fuel each other's success.
The shooting of the project by Palander and his director of photography, Maurici De Haro, took place in January 2020 and has resulted in the release of an official music video via Epidemic's Hip-Hop YouTube channel on March 20th, as well as a behind the scenes video published on Palander's own channel the same day.
Since dropping, the two videos have amassed over 42,000 combined views, which has helped to kick-start organic listening of Safehouse on music streaming platforms such as Spotify, where it has already seen over 72,000 streams.
Iso Indies, Epidemic rap duo, says: "We loved working with Alen on this project. Seeing how he creates his visuals and showing him how we work musically made us all realize how we're not that different creatively. It's great to see people listening, watching and enjoying what we've produced together."
Alen Palander, creative director and photographer, says: "The first thing I do when I start thinking about a new video idea is to find a track on Epidemic's platform that can set the right mood. It's been awesome to take this one step further and team up with Iso Indies to create this music video."
Oscar Höglund, co-founder and CEO of Epidemic, says: "Epidemic's now in a position where we can be the link that helps creative projects like this happen - we feel super humbled to be able to bring together world class creators from different disciplines and then watch the magic they produce."
Epidemic is backed by Creandum, EQT Mid-Market and Atwater Capital. The Company has offices in eight major cities across the globe: Stockholm, New York City, Los Angeles, Hamburg, Amsterdam, Helsinki, Toronto and Sydney.
Listen to our music at: https://www.epidemicsound.com/
About Iso Indies
Iso Indies is a rap duo from Brooklyn NY that embodies the strengths of east coast Hip Hop. From humble beginnings, Dillon and Ant have been working on music together since high school. They have found niche success in the underground scene, blending the roots of the genre with a modern sound.
About Alen Palander
Alen Palander is a Toronto-based Creative Director and Photographer. Throughout his education and work life in Urban Design and Architecture, Alen dabbled in photography and filmmaking as a hobby, with no formal training in the field. Amassing a fan base in the hundreds of thousands worldwide, Alen's brand and social media platforms grew, new and exciting opportunities began to unfold, and he quickly realized that his hobby had become his livelihood. Alen now works with some of the world's largest brands while also running his production company, Palander Studios Inc.
Alen draws much of his inspiration for his visual pieces from architecture, design, and travel to distant locales. With the propensity to pick up the camera and capture the world at a moment's notice, his lust for creating propels his perspective and represents something much bigger as he continues to seek the extraordinary in the ordinary.