Peter McKinnon teams up with artist, Ooyy, for a first of its kind co-creation project between Epidemic Sound music and content creators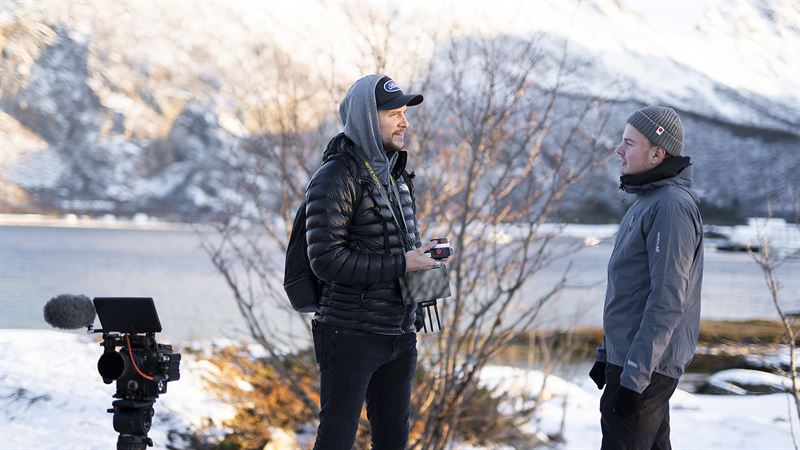 Photographer and filmmaker Peter McKinnon (https://www.youtube.com/channel/UC3DkFux8Iv-aYnTRWzwaiBA) partners with music artist, Ooyy (https://open.spotify.com/artist/0xe3AMjZeR6z3g4O6Vppjq?si=-CQ9QnN_S2KTaou87xVzTQ) (Henrik Olsson) for a first of its kind video and music co-creation project in the fjords of Lofoten, Norway
With over four million YouTube subscribers, McKinnon's use of the Epidemic Sound platform to soundtrack his videos with Ooyy's music has been instrumental in enabling the musician to build a fanbase and gain success on music streaming platforms
The project sees McKinnon move away from his signature style by taking a place behind the camera to create a short documentary about the story behind Epidemic Sound artist, Ooyy, what inspires him and his creative process
Stockholm, Sweden – Epidemic Sound, named as the second fastest-growing Swedish technology company on the Financial Times' list of Europe's fastest-growing companies, announces a first of its kind co-creation project between photographer and filmmaker, Peter McKinnon, and electro-house artist, Ooyy, in the fjords of Lofoten, Norway.
As a big fan of Ooyy's music, McKinnon has regularly used his tracks to create the right emotion in his online videos, which often accumulate millions of views from his four million YouTube subscribers. This exposure has simultaneously driven discovery of Ooyy's music, enabling him to build a fanbase of his own which now includes over 500,000 monthly listeners and more than 16 million total streams on Spotify alone.
With YouTube reportedly now the top daily video-streaming destination among young people, more and more Epidemic Sound artists are building a following on music streaming platforms by enabling their tracks to be used and discovered in online videos, as well as by production agencies, broadcasters, international brands and retailers.
Now McKinnon and Ooyy have taken this creative relationship one step further teaming up to create a short documentary that will give a glimpse into the story behind Epidemic Sound's electro-house artist, showcasing his creative process and where he gets his inspiration. During the four-day project in Lofoten, Norway, McKinnon also takes on a different role to his signature style, focusing on filmmaking from behind the camera to tell Ooyy's story.
Taking place between 5th-9th November, the project also included the creation of behind the scenes videos, original tracks and more, with all content due to be released throughout mid-December.
Peter McKinnon, photographer and filmmaker, says: "I have been using Henrik's music since my first days at Epidemic Sound. Long before his tracks were popping up on the top trending page and amassing millions of streams on Spotify - his music has always fit what I see in my head.
I couldn't be more excited to get the chance to capture his creativity in this space and in the field, shining a light on what he does best, for everyone to appreciate.
His passion for sound, my passion for photography, smashed together to create something pretty damn cool."
Ooyy, Epidemic Sound artist, says: "It's amazing being on set with Peter after hearing my music in his videos for the past two years. I get so much energy from watching him work and am excited about this opportunity to create some epic content together."
Oscar Höglund, co-founder and CEO of Epidemic, says: "We're so proud of the success Peter and Ooyy have been enjoying from their individual creations and want to do all we can to continue fueling that creative spark. We're thrilled to help bring them closer together for this project."
The project comes off the back of Epidemic's announcement that it has raised $20 million to expand into Asia and continue to soundtrack the world.
Epidemic is backed by Creandum, EQT Mid-Market and Atwater Capital. The Company has offices in nine major cities across the globe: Stockholm, New York City, Los Angeles, Hamburg, Amsterdam, Madrid, Helsinki, Toronto and Sydney.
Listen to our music at: https://www.epidemicsound.com/
About Peter McKinnon
Peter McKinnon is a Toronto-based photographer & filmmaker whose self-titled channel on YouTube has over four million subscribers.
About Ooyy
Henrik Olsson, better known as Ooyy, is a Swedish composer and producer specialising in electronic, house music. Working with Epidemic Sound since summer 2017, Ooyy's music has been heard in videos by famous YouTubers like Peter McKinnon (over four million YouTube subscribers) and has also soundtracked brand campaigns like H&M's collaboration with the Swedish Olympic team for the 2018 winter games.
Having released several EPs and singles through Epidemic's distribution system, Ooyy has accumulated over 16 million total streams on music streaming platforms, whilst building a following of over 500,000 monthly listeners on Spotify alone.